BANDING TOGETHER TO CLEAN UP
In Bushwick, volunteers take on the litter crisis
By Michayla Savitt
6/7/22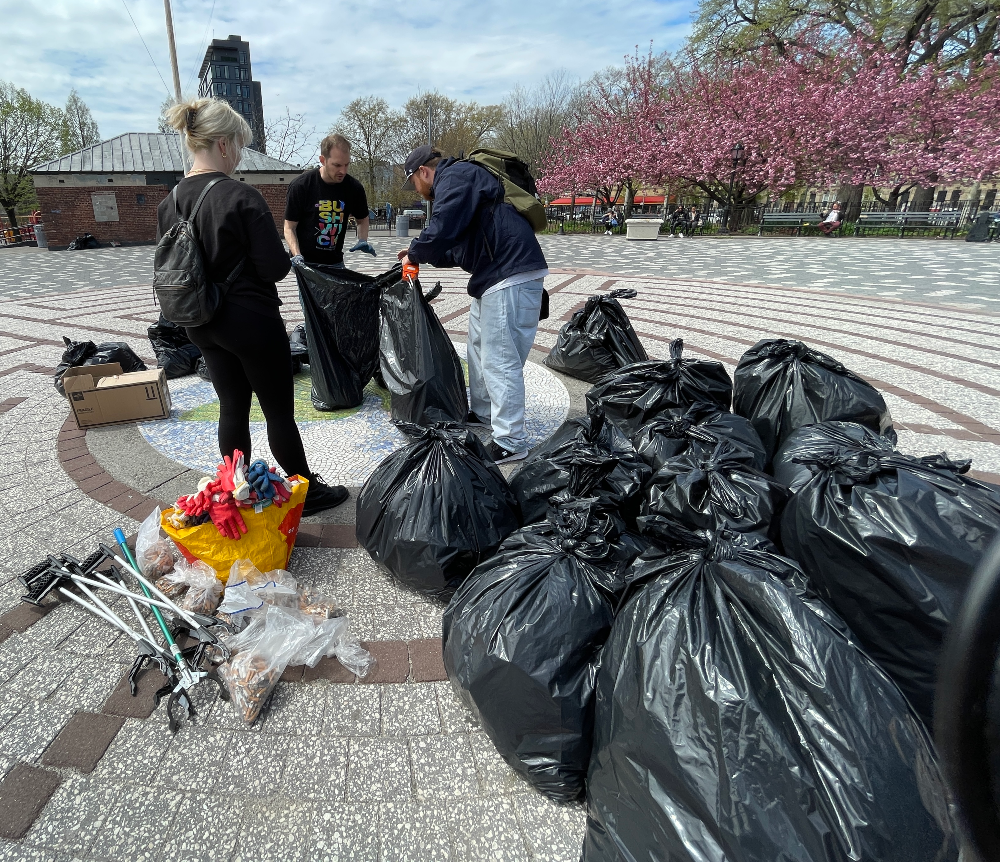 THE HAUL: Clean Bushwick Initiative volunteers weigh trash collected at an Earth Day pick-up event. (Photos/Michayla Savitt)
Every day, New York City residents produce 12,000 tons of waste. Not all of that waste ends up neatly in trash cans, recycling containers or compost bins.
That's why a group of volunteers works to pick up trash off Brooklyn streets.
"As a city, as a country, worldwide, we have a single-use garbage problem that is really affecting the environment in many, many ways, negatively," said Nicole DeSantis, who has been at the helm of Clean Bushwick Initiative as a volunteer since 2018. She is also a part-time outreach associate at the city Sanitation Department.
Clean Bushwick Initiative has been operating since 2016. Residents and business owners can contact DeSantis and ask for a cleanup in their area. Some businesses also sponsor events by offering discounted drinks or food. 
All CBI pickups have one big thing in common: They haul out large quantities of street trash, including enough discarded cigarettes to fill bags.
PROTECTION PROVIDED: Volunteers are given heavy-duty gloves and contractor bags to pick up litter. 
Collection season
On Earth Day in April, about 60 volunteers of all ages turned out to help clean up Maria Hernandez Park off of Knickerbocker Avenue and Suydam Street. Wearing heavy-duty gloves and toting black contractor bags, they fanned out across the park, which loops just one-third of a mile around.
It was the first Brooklyn cleanup for Alex Dotterweich, who volunteered in her hometown of San Francisco before she moved to Bushwick a year and a half ago. In just 25 minutes, she was able to easily fill up a large bag with garbage.
She noticed that many trash receptacles along Knickerbocker Avenue simply had no more room.
"So even if you want to put [trash] in there, you can't," she said. "And then I think sometimes people put it on the top. And then it blows away."
On her block, rats contribute to the problem.
"They get in trash bins," she said. "So I think they just open the trash."
Residents and lawmakers agree there is a litter crisis plaguing the city. Clean Bushwick Initiative and the volunteers who join them are trying to mitigate the problem locally. However, with the availability of volunteers waning during the summer months, there's a possibility that street litter could worsen.
Sanitation Department cutbacks have not helped. Street sweeping facilitated by alternate side parking has been reduced since the start of the pandemic but will return in full on July 5.
Officials add that street litter baskets, which often are overflowing, should really only be used for "walking trash," not household or businesses' garbage—as is sometimes the case.
When it comes to sidewalk litter, homeowners and landlords are responsible for removal. In Bushwick, though, 90% of residents are renters.
"I think, where you have a lot of homeowners, you're going to have cleaner streets. I think where you have a lot of wealth, people will pay to have somebody clean the front of their building," DeSantis said.
Volunteer numbers went through the roof during the early shutdown months of March, April and May 2020. It was a welcome outdoor, socially distanced activity—and people were drawn to doing community work.
"I think it was a way to connect with people and feel like you were doing something positive," DeSantis said. "So I think before the pandemic, at any given event, you could get anywhere from five to 20 people on average. And then at the height of the pandemic, we were getting something like, you know, on average, 40 people at an event, sometimes more."
Now, volunteer turnout is much lower. And during the summer, weekend volunteer availability drops off even further.
"So I'm going to probably do nothing in July and August, unfortunately, because it's hard to put this much work into something and then you have very few people show up," DeSantis said.
ARRIVING READY: Some volunteers come prepared with their own equipment. 
A problem with many sources
New York State Sen. Julia Salazar (D-Brooklyn), whose district includes Bushwick, said constituents complain about a lack of trash cans and recycling bins around the neighborhood.
"Bushwick is primarily a Latino neighborhood and a lower-income working-class neighborhood. We have not historically seen the investments in clean infrastructure and clean streets that we've seen in more affluent neighborhoods around the city," Salazar said. "So we all have a responsibility to change that."
Being the sole person to get supplies, and recruit other volunteers is challenging. DeSantis splits time between multiple volunteer efforts and her part-time job. 
Plus, the group doesn't operate as a legally organized nonprofit, so it relies on donations and volunteers' personal cash to buy trash bags and gloves—which costs an estimated $500 to $1,000 a year, DeSantis said.
DeSantis thinks the city's trash problem has a clear root cause: New Yorkers simply create too much garbage. 
That's why CBI has focused on education about compost, especially for its environmental benefits.
"Food that goes into the landfill creates methane. And it's really one of the biggest contributors to climate change," DeSantis said. "So any city that's actually going to really call themselves a green city, whose intent is to create a healthier environment, should have mandatory composting."
There's a wider push for the return of city composting pickups. After all, over one-fifth of New York City waste is food scraps and yard waste. 
A pilot curbside program available only in some parts of the city—which did not include Bushwick—was discontinued during the pandemic as part of cuts to the Sanitation Department.
A petition with more than 1,700 signatures is calling for organic-waste collection to be fully restored in Mayor Eric Adams' next budget. 
Sandy Nurse (D-Broooklyn), who represents Bushwick on the City Council and chairs its sanitation committee, said universal compositing is essential to committing to zero waste. Legislation for such a measure was introduced in April. 
Clean Bushwick Initiative volunteers continue to clear the streets when called upon. DeSantis is already planning ahead for September cleanups and thinking about the possibility of weeknight events to draw more volunteers. 
She's willing to try many different approaches.
"You're changing people's behaviors," DeSantis said. "And that's incredibly hard to do."